For a long time Intune admins have been logging into the Intune service dashboard at https://status.manage.microsoft.com/ to check on the status of their service. From there, you could easily review maintenance window timeframes and know when updates to the service are going to be applied. Of course doing this meant that you had to remember multiple portals and websites to help manage your Intune tenant along with all your other cloud services. In response to feedback to make getting to this information simpler, the Intune status information was moved to the Message Center of the Office 365 Admin portal back in late April of this year. Now that the service updates have started showing up in this new location, the old Intune service dashboard is being retired. With these changes there are now a few ways to find information about the health of your Intune tenant and about when updates are going to be applied. I'll show you how in this post.
Service health
Having some issues with the Intune service and wondering if it's something you are doing or if the service is has gone temporarily wonky? Just log into the Office 365 Admin Portal, expand the Health node, and select Service Health as shown below. If there is a known issue about the Intune service, you'll be able to learn more about it from here.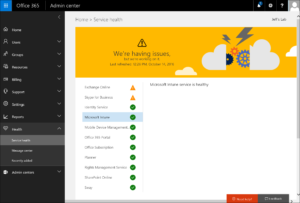 Service updates
If you are wondering when your tenant will have the latest feature updates applied, just click down one level in the navigation pane to select Message center. Review the various messages here for Intune and look for the "Plan for change" or "Stay informed" messages for the Microsoft Intune service. These will keep you in the loop on upcoming changes that might affect you, such as updates to the Intune Company Portal app, and give you a maintenance window for when one of the regular service updates will be applied to your tenant. You can see what it looks like in this screen shot: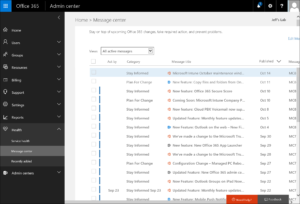 Tip: to learn about what feature updates are going to be applied, just click on the Additional information link from the message contents. That will take you to the Intune What's New information to get a deeper understanding of the new capabilities soon to be at your fingertips. That article is updated each month so go ahead and bookmark it now for later reference: https://docs.microsoft.com/intune/whats-new/whats-new-in-microsoft-intune.
Other ways to stay informed
Now you know how to access the Office 365 Admin Portal's message center to learn about service health or updates, but what if you aren't near a computer? Just use the Office 365 Admin mobile app! Using that you can easily review messages that affect you: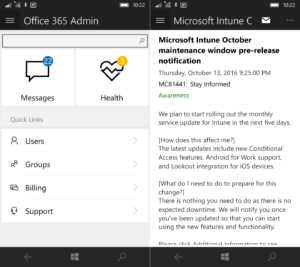 What makes this app even better is that in addition to reviewing service health and change notifications, you can also actually do some service management using it. You can add users, reset passwords, and even assign licenses. Having a problem and need to open or review an existing service ticket? You can do that on the go with the app too! You can learn more and download the app from here.
Finally, you can take custom service notifications to the next level using the Office 365 Service Communications API. Leveraging this API enables you to develop your own internal dashboards and reports without the need to visit the actual Office 365 Admin Portal. You can learn more about the Office 365 Service Communications API here.
And now you know how to stay informed about Intune service updates.
I hope this helps! ~Jeff
---
You've seen my blog; want to follow me on Twitter too? @JeffGilb.
805 total views, 2 views today